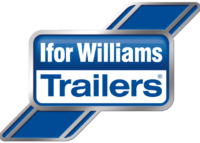 Our Current Range of
Ifor Williams Trailers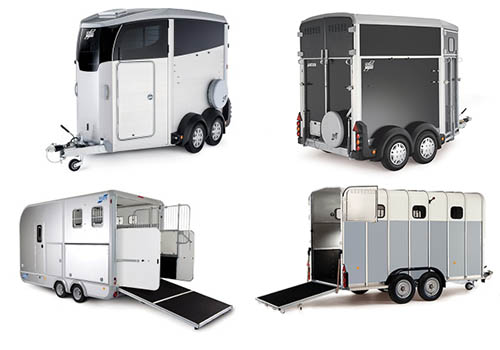 HB, HBE, HBX, JUMBO AND EVENTA
Renowned the world over for reliability, durability and flexibility, the Ifor Williams range of horse trailers is unrivalled in safety, comfort and style. Key features such as aluminium flooring, bright interior panels, quick release door catches and a breast bar release system are just a small selection of the HB's offerings.
Available in single, twin and multiple variants, with a right or left front ramp options there is a trailer to suit every horses needs, and their owners budget.
More Info…   |   Brochure    |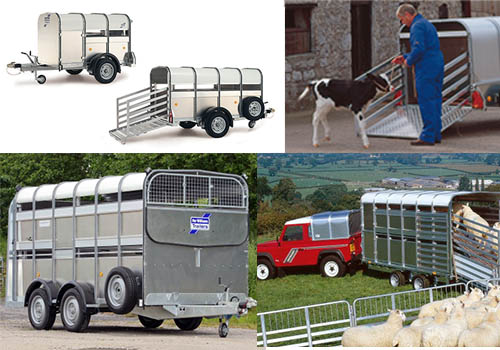 P6/P7e, P6/P8, TA5, TA510 and DP
From its humble beginnings as one of the first types of trailers Mr Ifor Williams built, the livestock trailer is the most recognisable trailer on the roads today. From cows or calves, sheep or pigs, or even alpacas or goats, there is an Ifor Williams Trailer that will suit all your animal transport requirements. Lengths available from 6″ to 14″, single, twin and tri axles, braked and unbraked and a whole host of options such as sheep decks, internal partitions, wind deflectors sump tanks and more.
More Info…    |   Brochure    |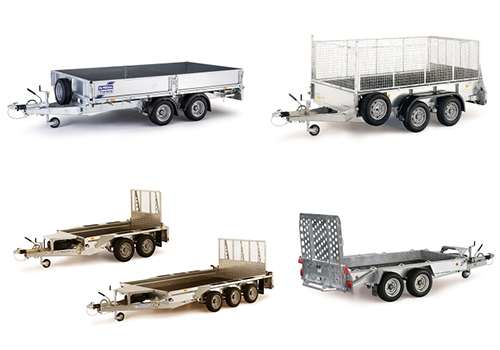 Flatbed, Eurolight, General Duty, GH/GX/GP Plant
From the smallest GD64 at 6'x4′, right the way through to the largest 20'x8′, these trailers are the true workhorses of industry. There are General duty trailers with tailboard or integrated ramp for loading ease, LM/LT Flatbed trailers for your all round universal requirements or the GX/GH/ or GP plant trailers for your diggers and dumpers. Options are a plenty such as removeable steel or aluminium ramps, mesh side extensions, manual or electric winches and ladder racks to name but a few. There really is a suitable for every conceivable application within the commercial range.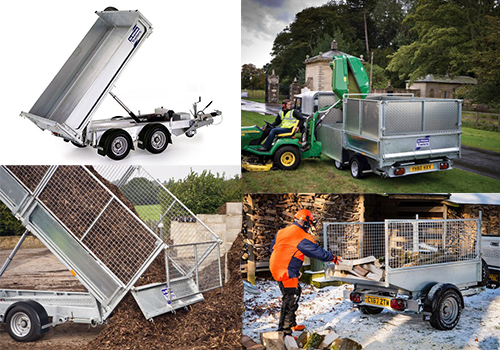 Tipper Trailers
How do you halve your manual work? Buy an Ifor Williams Tipper trailer! We can offer options as small as 2m x 1.2m in single axle format for the lighter user right through to the largest 3.6m x 2.1m 3500kg gross model. Key features such as aluminium floors, a fully protected and secure tipping set located under the bed and a clever hinge mechanism that tips the load to protect the rear lights. Optional extras such as loading skids and skid carrier kits, mesh or solid side extensions and floor mounted lashing rings are very popular additions.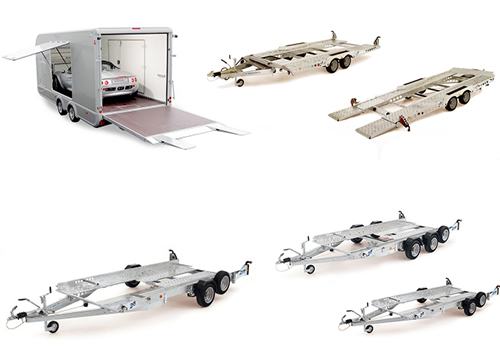 Transporta and CT
Take a look at any of our trailers and you'll find that safety, flexibility and ease of use are included as standard. The car transporter trailer range is no exception, providing a robust and reliable vehicle-carrying solution for motorsports enthusiasts, hire films and motor trade professionals.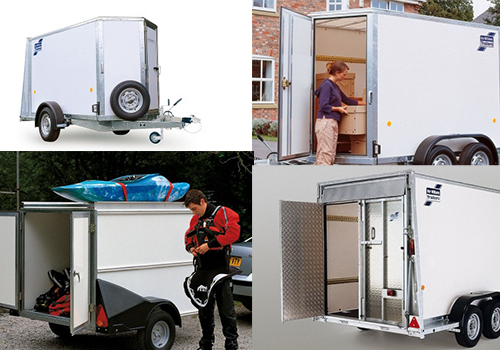 Box Van
Our box vans are available in a choice of three height options, three width options and four length options. Smaller models are available with a choice of single or twin axles. Most models are offered with roller shutter, combination ramp doors or van rear doors, ensuring your trailer is perfect for your needs. Internal size range: 2.4m x 1.17m – 3.6m x 1.73m.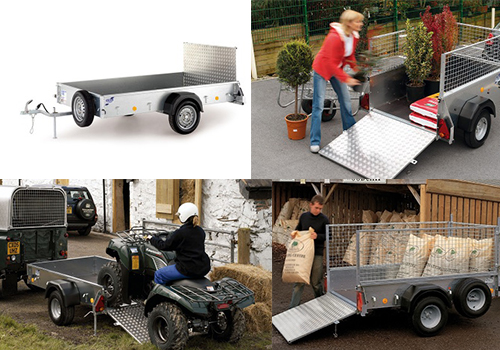 PE Range
Larger, stronger and tougher than trailers typically sold at your local DIY or car parts superstore, the P6e, P7e, P8e are small trailers with big hearts. On the road they can be towed by a family car, off road they can even be towed by a quad bike. With ramp or tailboard versions, canopy and livestock options, gross weights of 500kg or 750kg and a range of optional accessories, the P6e, P7e, P8e cater for most domestic, light commercial and general farmyard duties.
More Info…    |    Brochure    |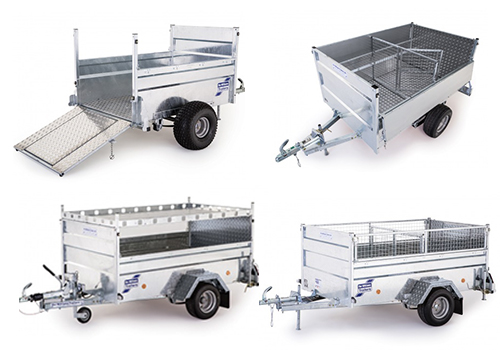 Q Range
The Q Trailer is a compact, convenient but robust trailer designed with domestic, agricultral and commercial users in mind. These trailers can be pulled by the majority of cars with a maximum gross weight of 1000kg. The trailer comes in three different lengths giving the customer a choice of trailer volume. They are all made with a galvanised chassis, treated timber and leaf spring suspension. The durability of the trailer is second to none. The fitted as standard aluminium treadplate floor ensures the trailer is not only easily cleaned but ensures the longevity of the trailer. Options for this trailer include a useful roof and rack with numerous tie-down points, internal partition, stock ramp door, hinged mesh or hinged solid sides.
More Info…    |    Brochure    |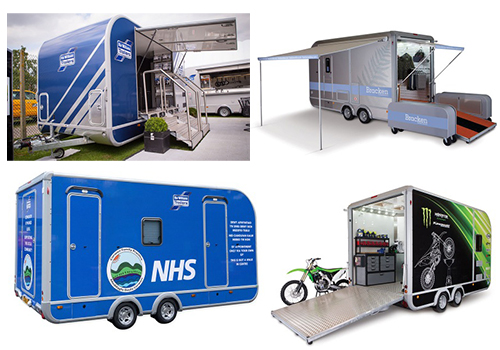 BIAB
The BIAB range is a fully customisable trailer that can be built bespoke to your individual needs.
More Info…    |    Brochure    |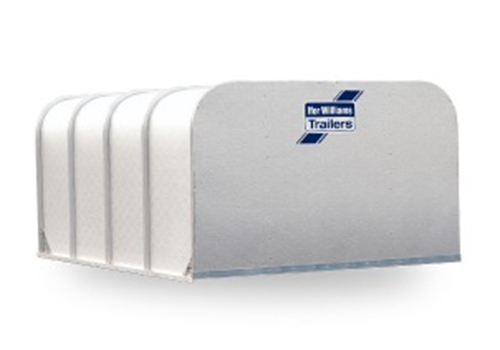 Canopies
Ifor Williams Trailers manufactures Canopies for both trailers and Pick-up vehicles. The Canopies are produced from the same high strength, durable materials as our trailers – high grade aluminium for the framework and panels, and hot dip galvanized steel for the tailgate and hinges.
More Info…    |    Brochure    |